Crayon Art
This was so much fun. It can be adapted for various ages.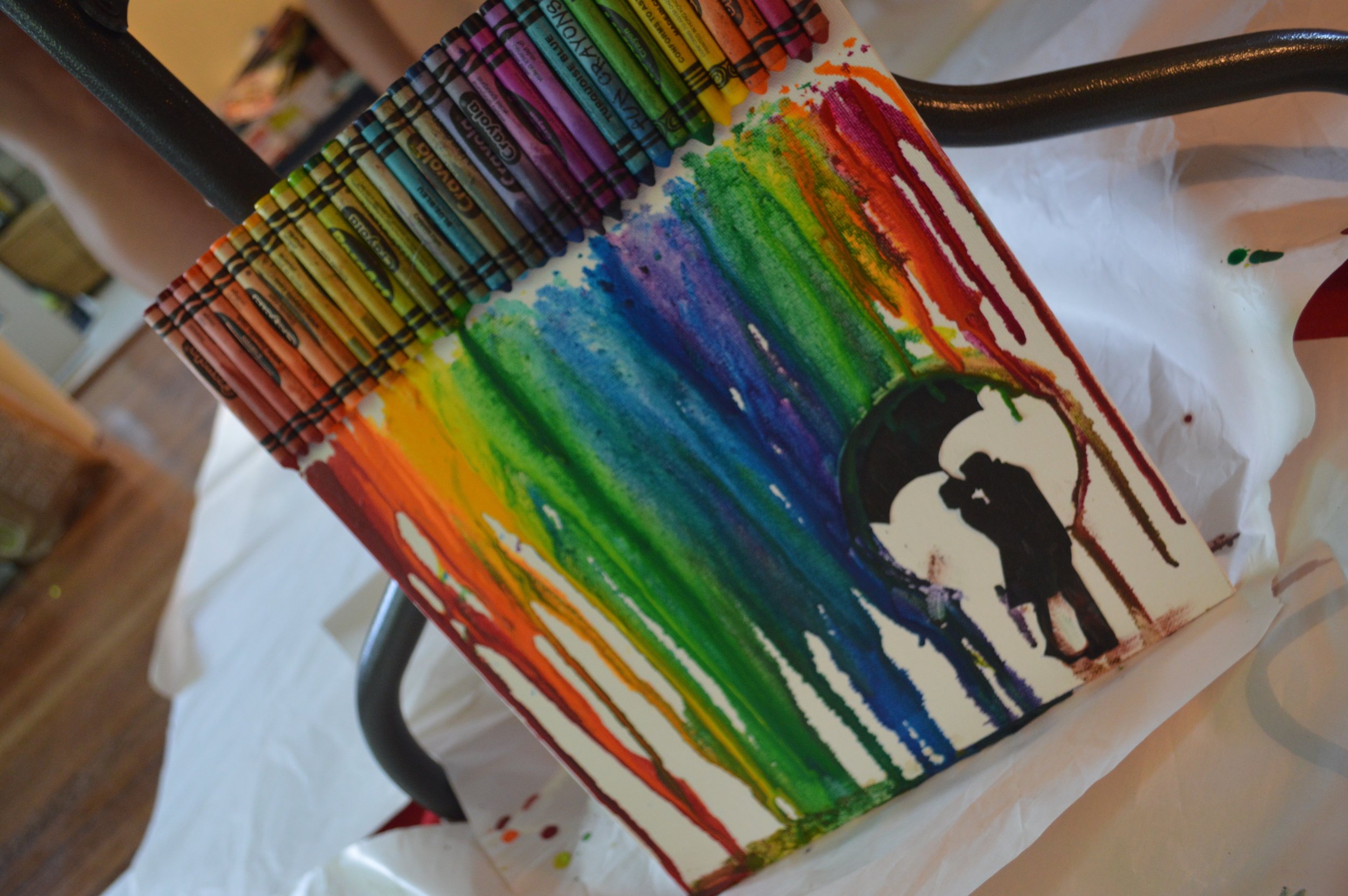 For younger ages, you could use smaller canvases so there are fewer crayons to adhere. You can even adhere the crayons beforehand so the glue gun is not used and all the child has to do is choose a silhouette, maybe cut it out, adhere it and then warm the crayons and watch them drip. Or set it outside in the sun while the kids are playing outside and they can occasionally run over to see how the crayon is slowly melting.
You'll need . . .
a canvas in the size you want

crayons . . . you can use new or old depending on how neat you want it to appear

glue gun if you plan to glue the crayons along the top

silhouettes printed on card stock or already pre-cut from store . . . if the silhouettes don't have an umbrella . . . like, for instance, a ballet dancer . . . the crayons can drip half-way down rather than all the way down . . . or . . . all the way down, if you wish.

hair dryer (the air will blow the crayon so it works, but it has a different, messier effect) . . . heat gun (it doesn't blow air so the crayon will more easily drip down and not be blown) . . . or the sun on a hot day

scissors if you need to cut out the silhouettes

adhesive for the silhouettes
Depending on how picky you are for this project, if you want to adhere the crayons along the top of the canvas, it is best to use crayons that are in near new shape so they look neat across the top. If the crayons aren't in good shape, you can flake them onto the picture as was done with the elephant picture.
As you can see from the crayon under the umbrella, we used a cup so the crayon unfortunately followed the path of the cup in a circular pattern. It would have been worth it to ensure the crayon not drip in a circle pattern but straight down once the crayon was past the umbrella.
This is a pretty foolproof project for all ages. It makes a great project in the context of studying rainbows . . . and just watching the crayons drip is fun.
Have you done this? Please share your pictures in the comments section.